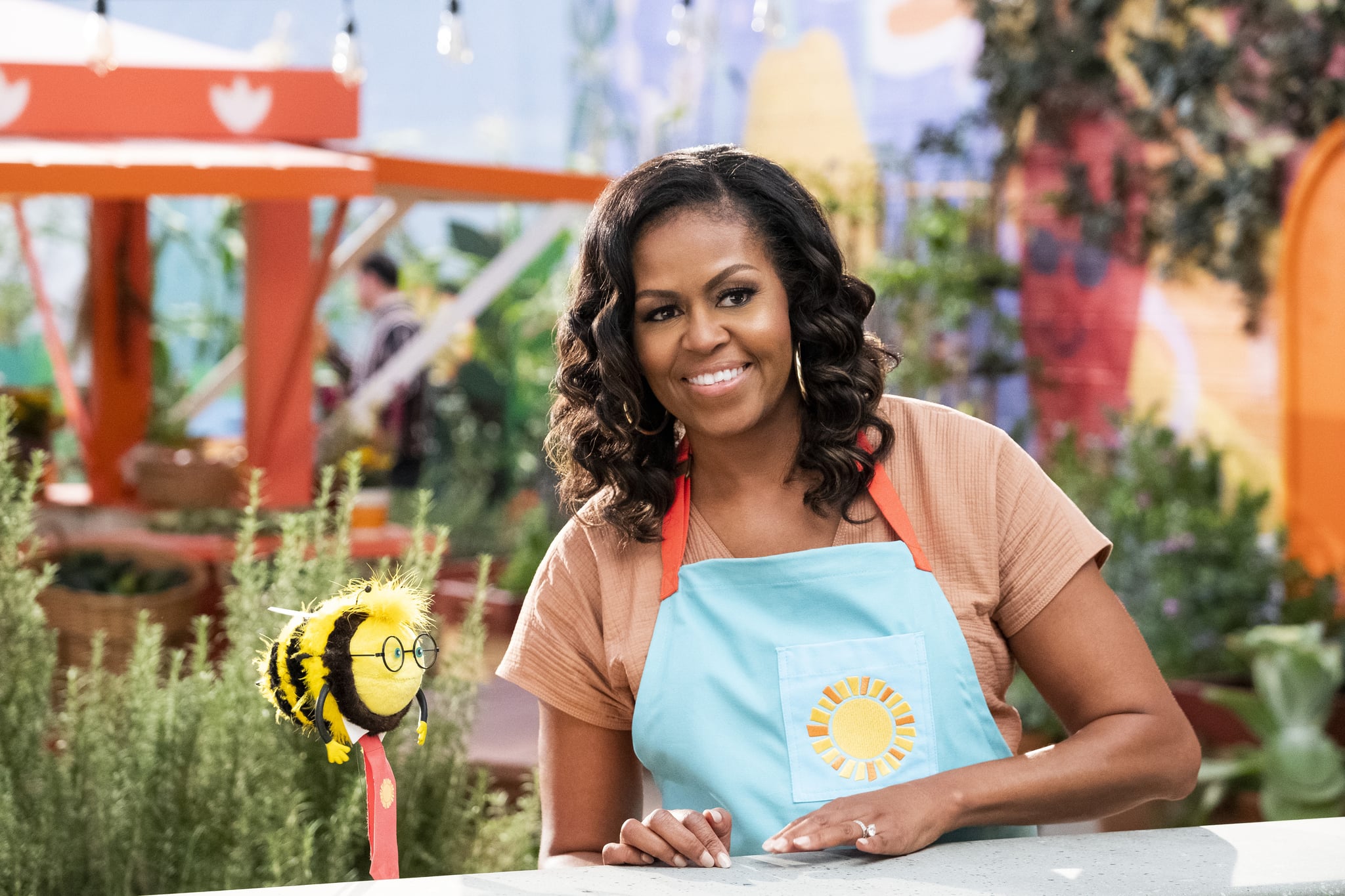 Image Source: Netflix
Michelle Obama is still on a mission to create a healthier country. As she told the audience at "The Drew Barrymore Show," wellness is possible even for the pickiest eaters. Tied to her new Netflix spinoff, "Waffles + Mochi's Restaurant," the former first lady stopped by the talk show on Oct. 17 to discuss raising healthy children, fostering a balanced lifestyle, and creating good habits for kids still learning to expand their palates beyond sugar and fast food. "I was in your position," Obama said to the parents watching.
"If you remember, now my girls are grown women out in the world, but when we entered the White House, they were 7 and 10. So I was in that position where I was working, I had a full-time job, I was campaigning for my husband, I was on the road, and I was getting to the point where I couldn't figure out how to feed my kids healthy foods because I was trying to do what most parents would do — give them something fast and quick," Obama said.
"I saw my kids' health being affected by the fact that we did too much fast food, we did too many sugary drinks, and as I've always said, it's about balance," she continued. "I struggled with that as a parent, and I figured, here I am, college educated, law degree, and I don't know what to feed my kids." Obama added, "So I set out to embrace this issue, to educate us as a nation but to also help parents learn what works for their kids."
Consequently, "Waffles + Mochi" was born, as well as the "Waffles + Mochi's Restaurant" spinoff, which hit Netflix on Oct. 17. Obama described the spinoff as a "food adventure" and the "culmination of everything we worked on in the White House." She added, "Really trying to make the exposure to food fun."
As an executive producer and host of the show, Obama helps her puppet sidekicks, Waffles and Mochi, learn how to cook — teaching kids about wellness and nutrition in the process. This season, as Obama revealed in her interview, Waffles and Mochi are embarking on a new endeavor, setting out to open their own restaurant. Barrymore called the show the "next 'Sesame Street.'"

https://www.popsugar.com/family/michelle-obama-picky-eaters-advice-drew-barrymore-show-video-48981831